Suriya
From BZPB Wiki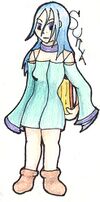 Suriya is an ex-girlfriend of Shikhazra's. She is short with pale skin and light blue hair.
Her only appearance in BZPB is through a mention (and not even by name) by Stelladi during a conversation about Shikhazra's current appearance. How's THAT for an extremely insignificant character?
Sasuken: Thank you for the compliments. You are all quite fetching yourselves. Though, of the lot, I must say Shikhazra wins the award.
Shikhazra: Why thank you. I always thought this form was rather fetching. Glad to see others agree.
Stelladi: What? Unlike your last girlfriend?
Shikhazra: Sh-shut up!