bzpb.forumotion.co.uk
From BZPB Wiki

bzpb.forumotion.co.uk (formerly bzpb.net) is a Collaborative Fiction forum website about the BZPB Multiverse. It was created to host the BZPB RPG, which has since ended and been replaced with a series of ongoing stories.
The forum has been decreasing in activity ever since a Skype group was created for site members sometime in 2012 or 2013. Nowadays, almost all BZPB-related discussion occurs there instead, so the forum is just used to post new story chapters or content.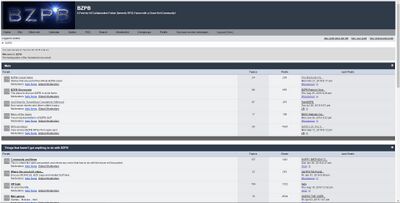 History
[
edit
]
The original BZPB RPG, then called BZPower Battles, entered a rough period when the BZPower thread in which it was based was closed. It was moved onto the old BZPB wiki that was hosted on Wikia, but since wikis weren't really meant to host RPGs, this solution was not ideal. The forum was created as "bzpb.forumotion.co.uk" by User:ShroomX2 on November 7, 2010, as an answer to this problem. On July 3rd, 2015, User:Kon decided to purchase the bzpb.net domain and move the forum there. One year later, Kon let the domain expire so the forum was moved back to its original address.
On November 26, 2016, bzpb.forumotion.co.uk was rebranded as a Collaborative Fiction website instead of an RPG site, due to the success of written stories such as The Mazkertis Paradox compared to the RPGs.
Forum structure
[
edit
]
Main - This forum contains everything that has to do and will do with BZPB.

BZPB Canon Tales - This is where stories that are part of official BZPB canon are posted.
BZPB Discussion (formerly RPG discussion) - The place to discuss BZPB in all its forms. Of course, since the majority of BZPB discussion occurs on Skype, this forum is mainly used to post things like character theme songs and the annual "Best of BZPB" competition polls.
And Now for Something Completely Different - This is where non-canon stories and other written lunacy goes.
More of the Same - This is where members' art and models go.
RPG archives - An archive of all the old RPG topics that were hosted on the site.
Things that don't have anything to do with BZPB - This is where things that have nothing to do with BZPB go.

Community and News - This is where the rules and any news that has to do with the forum are posted.
Where the sun don't shine - This is where all discussion of BZPower, Bionicle and Hero Factory goes.
Off topic - This is where off-topic discussion took place.
Mini-games - This is for "games that are... mini". It was the fastest forum on the site.
Blogres - This is where people's blogs were posted... though they were not so much blogs as they were mildly interesting pictures or articles.
The Underwater Base - The Underwater Base is a secret forum where stupid topics are sent and where private discussion between moderators sometimes took place. It is not visible to normal members.
The Chatbox - The Chatbox was the most insane part of the forum. Discussions that took place in it ranged from serious debates to flame wars. Some people claim it was the BZPB equivalent of 4chan's /b/. Nowadays however, due to everyone using Skype instead, the chatbox just sits there gathering dust. Sometimes Kon and Klak still use it to roll dubs to decide things, giving it the unofficial name of "Dubs Simulator".
Ongoing Stories
[
edit
]
For more BZPB stories, see BZPB stories.
Retired RPGs
[
edit
]
BZPB 2.20: The Fire Rises
Weird Games: A BZPB SORAverse Story
Conquistadores
Avalon Crisis
This is Zombieland
Welcome to WereWorld